Product Portfolio
GIETART Compact Blaster 604
Compact shot blasting system for cleaning profiles and tubes
Workspace [mm]: 600 x 300 and Number of Turbines: 4
Suitable for a throughput up to 7,500 tons a year
Benefits at a glance
Suitable for single beams up to 600 mm width and multiple smaller products
Placement on the floor - standard
Small and slim footprint, compact system
Reliable and durable, high-quality blasted products
Superior performance at lowest cost of ownership
User-friendly system, easy to maintain
Equipped with 6, 9 or 12 m transport system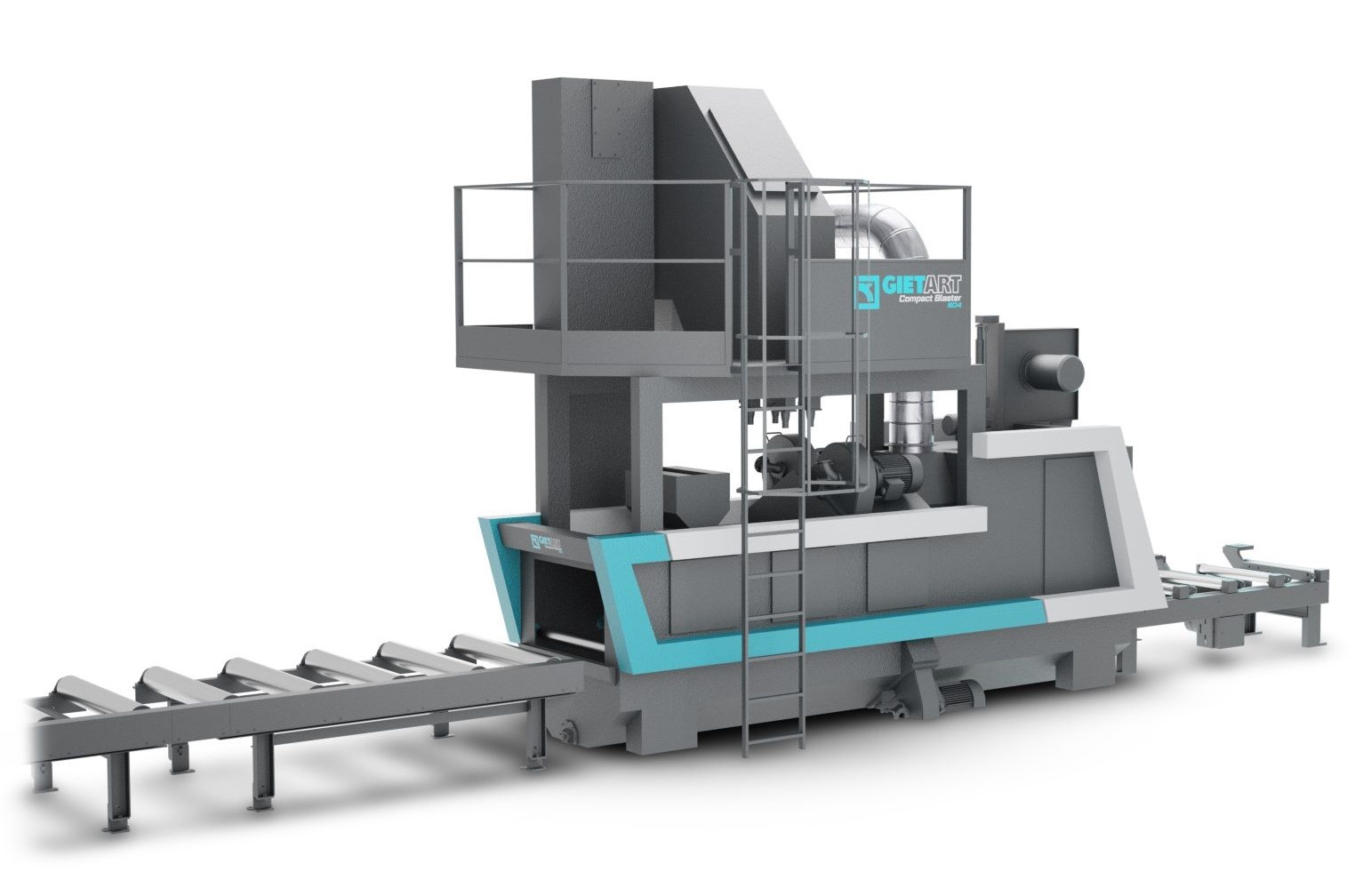 Download Leaflet
Optimal shot blasting results

Unique GIETART high-performance turbines
Thoroughly cleaned steel surface
Energy efficient blasting process

Unique, durable shot blasting construction

Extremely stable system through complete manganese housing
Best in resistance to wear and reliability
Maintenance friendly system

Efficient and effective removal and reuse of abrasive material

Clean product for further processing
Considerable savings on abrasive material
Brush and High Presssure blow-off system for removing abrasive

Clean working environment

Sophisticated air filtering system
Return of purified air to the hall
Unique longlife cartridge filters

No foundation needed

Easy handling
Optimal transport possibilities
High production flexibility

Efficient material handling

Designed to ensure an optimal process flow
Most effective processing of material in your production area

Compact Blaster - Options

Delivery with or without filter system
Automatic height adjustment
Standard equipped with 6, 9 or 12 m transport system
Brush or High Pressure blow-off section
Cross conveyors in different lengths

GIETART ECO Blaster 1504

Typically used by steel trade and construction companies.
The ultimate fast mover of GIETART's successful shot blasting program. This cost-effective, compact system will bring you a fast pay-back time, even if you are not running 5 day 3 shift operations at this moment. With its durable construction and high-quality blasting process, you will be able to produce a wide variety of first class steel products.
GIETART Compact Blaster 604
Video
Successful plant integration within your production environment

Optimal availability and performance

Speed, quality, precision

Advanced process monitoring systems

Optimal shot blasting results, low running costs

Over 135 years of accumulated know-how

Total versatility, high-end cutting techniques

Constructed to meet your individual needs

Automated solutions for each level of requirement

Committed support and professional advice

Highly efficient painting and drying systems

Total design consultancy and customized solutions

Cutting-edge sawing, drilling and plate processing technology

We are there - wherever you need us

Developed for strong performance

We guarantee the quality of your steel!

We know how to boost your efficiency and productivity

Environmentally friendly and resource-saving products

Integrated high-quality solutions for the steel industry