Product Portfolio
GIETART 3D Blaster 1508
Perfect for blasting welded steel constructions
Workspace [mm]: 1,500 x 800 and Number of Turbines: 8
Capacity depending on the shape and weight of the parts
- Substitute for TRIATHLON
Benefits at a glance
Especially developed for welded steel constructions
Perfectly cleaned end products
Optimum recirculation of used abrasive
Easy inspection and maintenance
Option HD version: heavier turbines, higher impact, double speed
Also available with significant energy saving option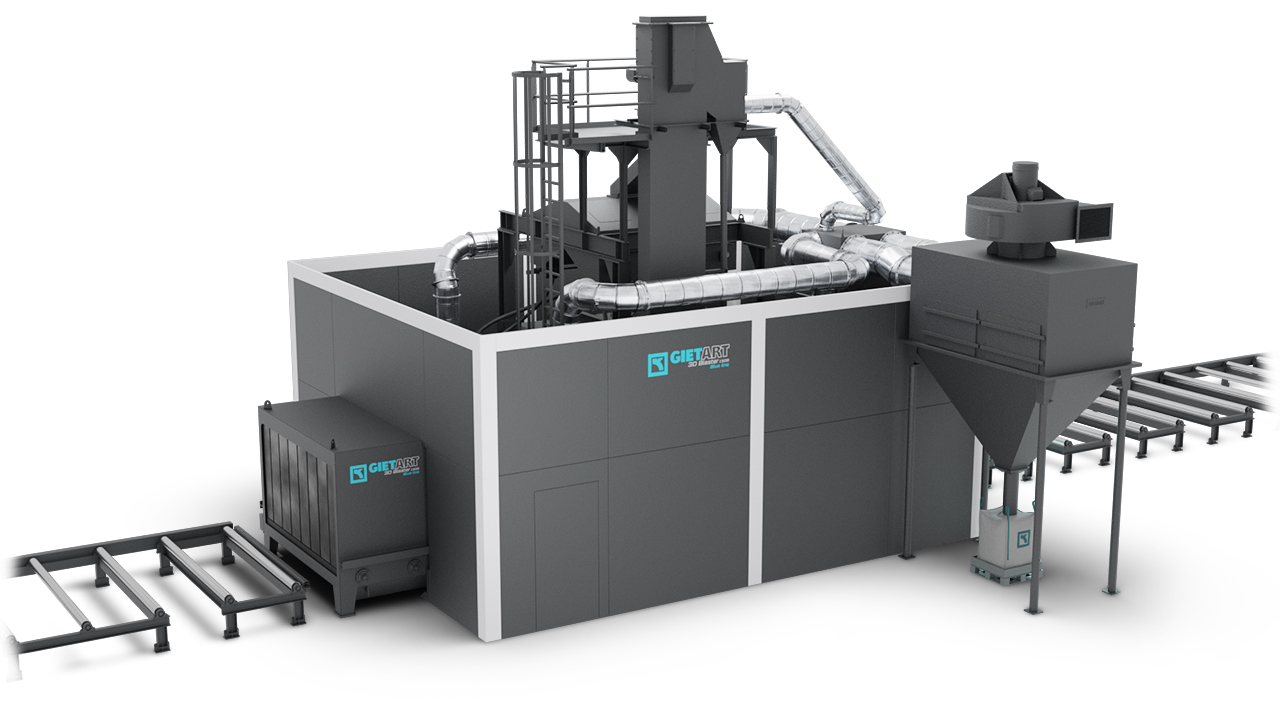 Optimal shot blasting results

Unique GIETART high-performance turbines
Thoroughly cleaned steel surface
Energy efficient blasting process

Unique, durable shot blasting construction

Extremely stable system through bolted manganese lining
Best in resistance to wear and reliability
Maintenance friendly system

Efficient and effective removal and reuse of abrasive material

Clean product for further processing
Considerable savings on abrasive material
Various brush and blow-off possibilities for removing abrasive

Effective removal of dust and scale from abrasive

Multi-level cascading air cleaning
Thorougly cleaned abrasive
Optimal and consistent blasting results

Clean work environment

Sophisticated air filtering system
Return of purified air to the hall
Unique GIETART longlife cartridge filters

Easy maintenance

Good accessibility to important machine components
Easy exchangeable wear and spare parts
Higher uptime/performance of the machine by short service stops

Blue line

A most environmentally friendly edition

7-year warranty

Unique edition for extended service life

Tuned

Optimized solution for 25% more output

Enhanced wear resistance

100% lifetime extension of replacement parts

Optimal process flow

Highly efficient roller conveyor systems
Suitable for different materials
Effective batch preparation
Considerable reduction of down time

Efficient removal of chips

Unique brush-off systems
No loose chips on your product anymore
Perfect preparation for shot blasting
High-quality end products

GIETART 3D Blaster 3010

Typically used in many steel construction companies, such as manufacturers of bridges, truck chassis or in the construction of cranes.
Challenge us to improve the quality of your steel constructions. Our long-time experience has shown that together we will find the best solution. Thanks to our unique turbine configurations, you can be assured that all difficult areas of the construction will be cleaned. For optimal performance, the machines can also be applied for cleaning plates, profiles and tubes.
Optimal availability and performance

Constructed to meet your individual needs

Advanced process monitoring systems

Total design consultancy and customized solutions

Automated solutions for each level of requirement

Developed for strong performance

Optimal shot blasting results, low running costs

Committed support and professional advice

Environmentally friendly and resource-saving products

Successful plant integration within your production environment

Cutting-edge sawing, drilling and plate processing technology

We guarantee the quality of your steel!

Highly efficient painting and drying systems

Over 135 years of accumulated know-how

Speed, quality, precision

We know how to boost your efficiency and productivity

We are there - wherever you need us

Total versatility, high-end cutting techniques

Integrated high-quality solutions for the steel industry
NEW DESIGN
Welcome on the new KALTENBACH website!
Fresh, modern and innovative. With creative, integrated high-quality solutions for the steel industry. Showing passionate people, working on powerful machines, with an exciting new design.
Feel free to explore our new website and let us know what you think!
Go to website