Suitable for steel profiles and tubes, as well as plates up to 1,500 mm width
Medium capacity shot blasting and painting line
Perfect end products with a consistent quality. Excellent shot blasting (BSA2,5 acc. ISO 8501-1:2007) and primer coating are the basic functions of this line. Based on 1,700 operation hours, the GIETART ECO 1504 line is able to process up to 15,000 tons of steel, annually.
A shot blaster with 4 highly effective turbines, a painting machine allowing optimum processing speed. With the possibility to implement a wide variety of options and packages, the line can be exactly fitted to your specific requirements.
Especially for steel stockholders or service centers, looking to provide extra service to their customers, this is the equipment you need.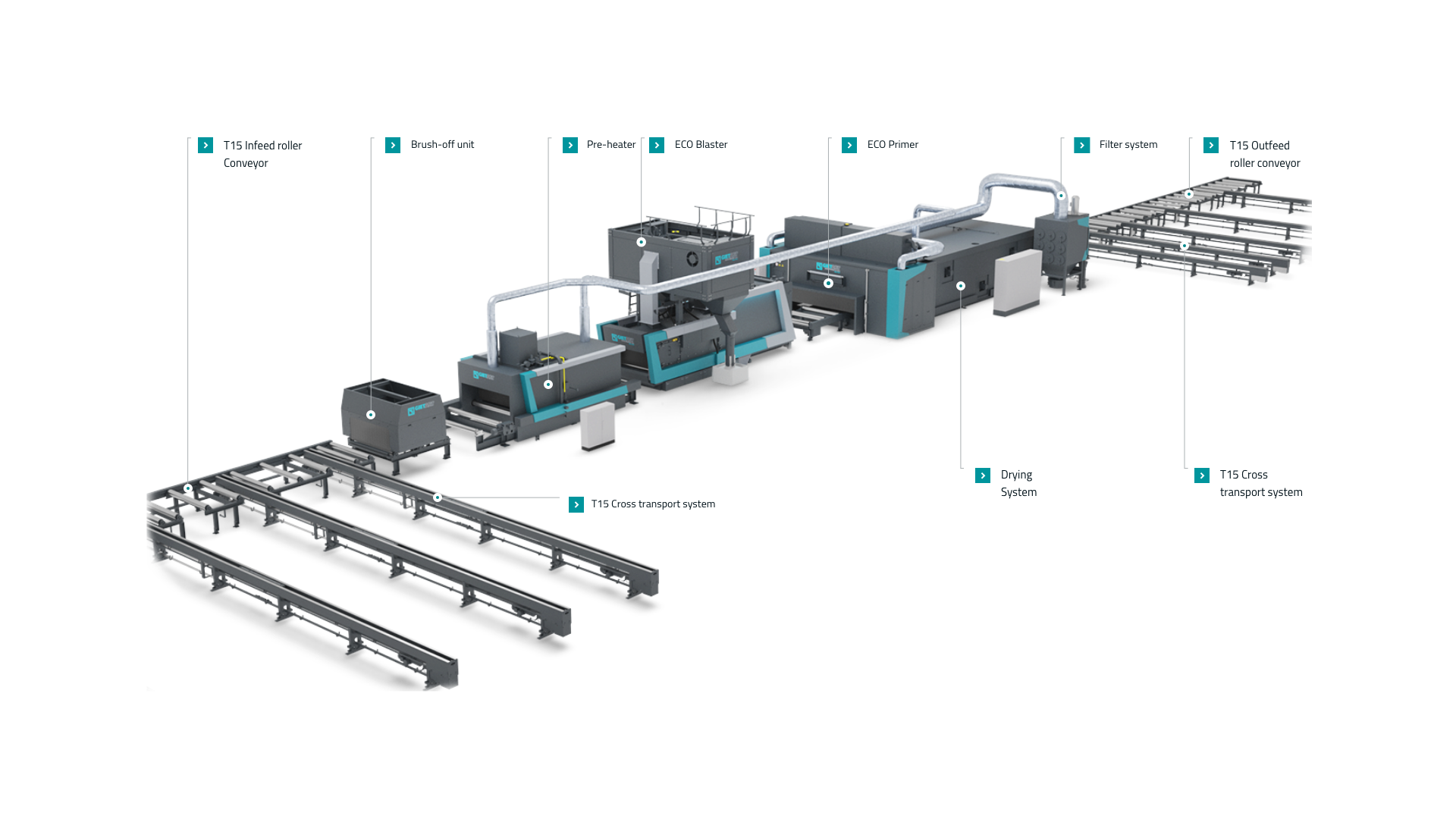 Developed for strong performance

Optimal availability and performance

Automated solutions for each level of requirement

Integrated high-quality solutions for the steel industry

Speed, quality, precision

Total versatility, high-end cutting techniques

Optimal shot blasting results, low running costs

We are there - wherever you need us

Constructed to meet your individual needs

Committed support and professional advice

Cutting-edge sawing, drilling and plate processing technology

Advanced process monitoring systems

Highly efficient painting and drying systems

Over 135 years of accumulated know-how

Successful plant integration within your production environment

Environmentally friendly and resource-saving products

Total design consultancy and customized solutions

We know how to boost your efficiency and productivity

We guarantee the quality of your steel!
NEW DESIGN
Welcome on the new KALTENBACH website!
Fresh, modern and innovative. With creative, integrated high-quality solutions for the steel industry. Showing passionate people, working on powerful machines, with an exciting new design.
Feel free to explore our new website and let us know what you think!
Go to website