Product Portfolio
SKL 450 E
Semi-automatic mitre saw for non-ferrous metals
Workspace [mm]: 160
Benefits at a glance
Clamping, sawing, reverse motion, opening – touch of a button
Suitable for single cuts and processing of small batches
User-friendly electronic control unit mounted directly on the machine
Good accessibility for saw blades changes and maintenance work
Workpiece clamping device on both sides of the saw blade
Infinitely variable saw blade feed
KALTENBACH 'cut from below' principle ensures good chip flow
Ergonomically arranged controls for ease-of-use
Adjustable cutting stroke limit and rapid return of saw blade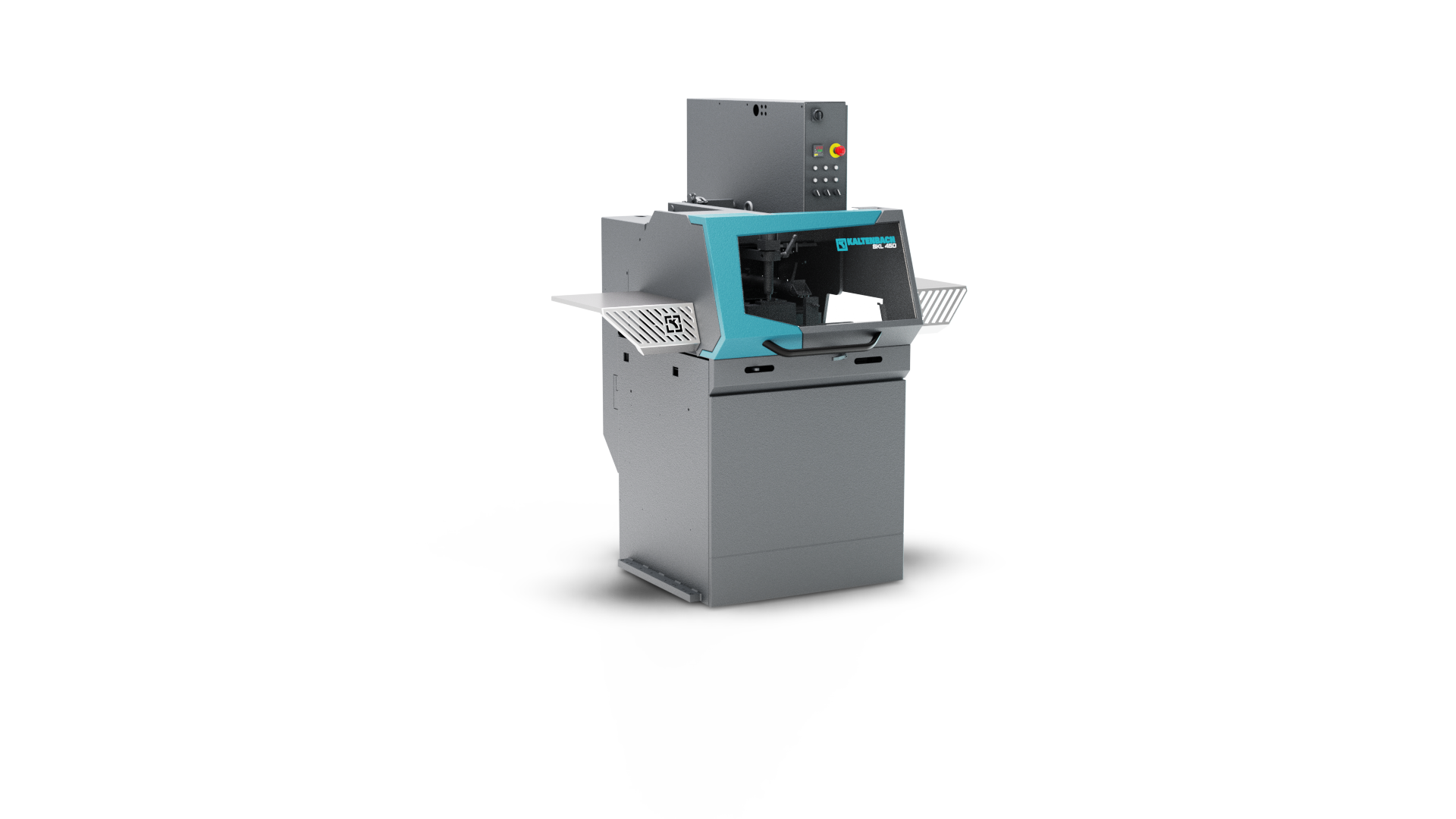 Workpiece clamping

8 mm hub
Large-scale pressure piece for secure clamping on both sides of the saw blade
Flexible in material measurement, especially within wide limits

Individual feed adjustment

Universal, infinitely variable adjustment, even during the sawing process
Hydropneumatic feed

Rotary table for mitre cuts

Easy, manual adjustment
Pivoting range 180°

Precise straight and mitre cuts

Stable contact surface for precise cuts
Adjustable forwards and backwards

Additional workpiece clamping

Horizontal clamping device to the right and left of the saw blade

Minimum quantity lubrication

Virtually dry workpiece
Optimum tool lubrication when sawing profiles
Disposal of lubricant unnecessary
Long blade life

L 45 E length measuring device

For manually adjustment of measurement length
Adjustable vernier for high measurement accuracy
Attachable stop guide for short cut lengths
Stop arm can be pivoted upwards
Can be fitted with a digital display

L 45 I length measuring device

The stop is moved using handwheel, clamping hydraulically using hand valve

Digital length display

Stop arm can be swiveled up and down

L 41 NC length measuring device

For electronic adjustment of the measuring length via NC-control
Feed gripper is clamped automatically after the positioning
Easy operation via touch screen
Data import via USB

T3 Transport System for Circular Saws

For material feed and removal with circular saws
Ball-bearing light-running rollers
Operating width: 330 mm / Roller diameter: 60 mm

SKL 450 H

Total versatility, high-end cutting techniques

Environmentally friendly and resource-saving products

We are there - wherever you need us

We know how to boost your efficiency and productivity

Advanced process monitoring systems

Constructed to meet your individual needs

Speed, quality, precision

Automated solutions for each level of requirement

Committed support and professional advice

Total design consultancy and customized solutions

Successful plant integration within your production environment

Optimal shot blasting results, low running costs

Cutting-edge sawing, drilling and plate processing technology

Integrated high-quality solutions for the steel industry

Highly efficient painting and drying systems

Over 135 years of accumulated know-how

Developed for strong performance

Optimal availability and performance

We guarantee the quality of your steel!
NEW DESIGN
Welcome on the new KALTENBACH website!
Fresh, modern and innovative. With creative, integrated high-quality solutions for the steel industry. Showing passionate people, working on powerful machines, with an exciting new design.
Feel free to explore our new website and let us know what you think!
Go to website