High Performance for Heavy Steel Construction and Steel Service Centers
Benefits at a glance
Work area (w x h): 1.200 × 450 mm

Vertical saw on robust pivot bearing

Powerful drive for high-performance cutting

Single cuts in addition to layer and bundle cuts possible

NC-controlled cutting-angle setting

A drill can be incorporated to create a saw-drill combination

Feed via ball screw for perfect cutting results and long blade lif
Alternative Machines
Range of tools Saw Blades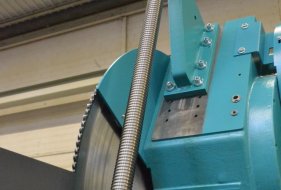 Quiet Operation and Constant Feed
Infinitely adjustable feed rate on the control console

OPTIFEED for automatic control of saw blade feed and cutting speed

Excellent regulation response through changing material cross-sections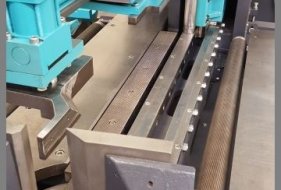 Automatic Material Clamping
Hydraulic profile clamping within the automatic sawing control (clamping, sawing, unclamping)

Clamping bridge clamps directly alongside the saw blade for precise cuts, even with short cutting lengths

Clamping and sawing of layers and bundles possible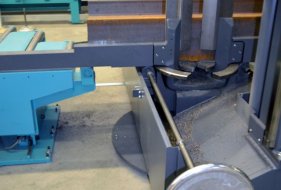 Manual Material Positioning
Supply rollers attached to the left and right of the saw table

Transport and positioning movement in the sawing area with removable hand wheel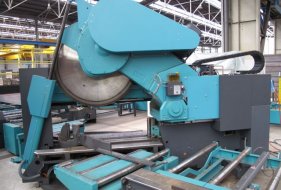 Transport of Short Profiles
Power driven transport rollers on the infeed and outfeed sides immediately beside the saw table

Short material lengths can also be transported through the sawing area with mitre settings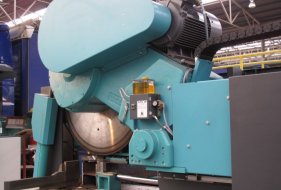 High Performance Cutting
High performance cutting and long blade life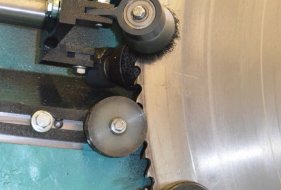 Chip remover
Chip remover cleans the saw blade for perfect cutting results and shorter cutting times.
Drive performance
kW
22,0
Dimensions (L x W x H)
mm
4500 x 1600 x 3200
Weight
kg
approx. 9.500
Supply and discharge side
Sawing
Sawblade
Ø mm
1.430 x 9,5
Cutting speed (optionally)
m/min
8-30
Workspace max.
mm
1.200 x 450
Working range Square
mm
440x440
working range Profile
mm
1.200x450
Working range min.
mm
50x50
Mitre range
-45°/90°/+35°
Tools
HSS-Tools
Degree of Automation
automatic outfeed
automatic infeed
Material class
Steel
Working processes
Bundles
Layers
Profiles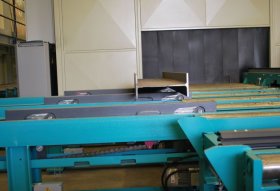 Connection to Steel Roller Conveyor
Cross Transport by Means of Lift-and-Carry System (As an Alternative to Drag Chains)
Standard Measuring System on the Feed Side for Sawing Machines
Positioning drive through frequency regulated three-phase motor with absolute rotary encoder

Automatic NC positioning via machine software

Rapid pivoting of the squaring arm

Manual adapter for processing short lengths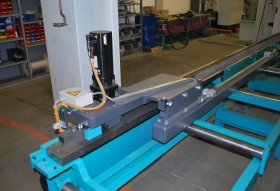 Standard Measuring System on the Feed Side
M 150 P Sliding Measuring Carriage with Pusher Plate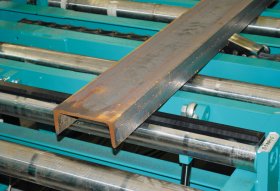 Low-Noise Material Cross Transport
By lightly raising the material using polyamide-coated rollers integrated into the roller conveyor, the traditional "steel on steel" noise from cross transporting profiles is significantly reduced. Transport technology in steel construction and steel trading will be revolutionized through this new system.
Fully-automatic control

Contributes to enhanced occupational safety and the protection of personnel and the environment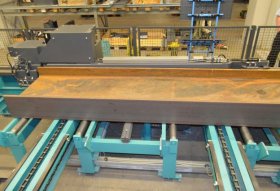 Space Saving Measuring System on the Feed Side
M 152 GG Sliding Measuring Carriage with Two Grippers
Cross Transport with lifting pins
Cross Transport with lifting pins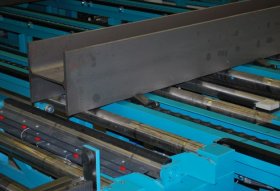 Fast Material Cross Transport
Material stock in heavy-duty steel construction

Sliding rails of synthetic material (polyamide) for low-noise material cross transport

Drag chains with transport claws

Drive system with continuously-variable frequency-controlled gear motor
T 13 Transport System for Steel Construction and Steel Service Centers
T 13 Modular Expandable Conveyor Roller System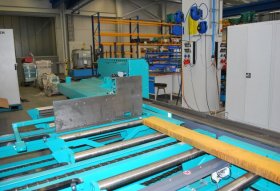 Universal Measuring System on the Outfeed Side for Sawing Machines
Positioning drive through servo motor with absolute rotary encoder

Automatic NC positioning via machine software

Rapid pivoting of the squaring arm

Automatically-extending adapter for processing short lengths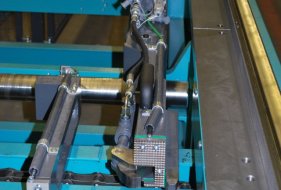 Universal Measuring System on the Feed Side
M 151 G Sliding Measuring Carriage with Gripper
PROFICUT
Modern Software Package for KALTENBACH Sawing Machines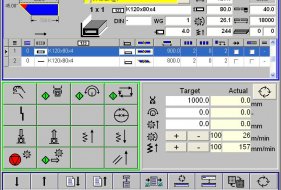 PROFICUT - Easy, user friendly machine operation
Programming of orders via color touchscreen with large keypads directly on the machine control console

Storage possibility for as many sawing orders as desired

Automatic calculation of cutting speed and feed over the material group or DIN-Nr. (steel key)

Graphical representation of the material

Machine operation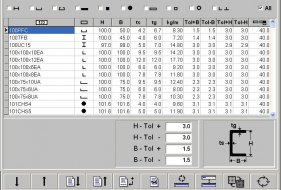 PROFICUT - Profile database
Comprehensive profile database

Easily expandable

Graphic display of workpiece forms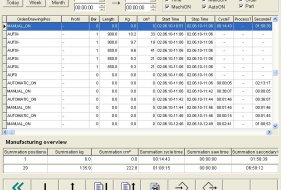 PROFICUT - Production data report
Recording of production times of individual pieces or entire orders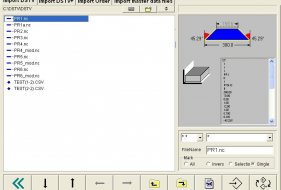 PROFICUT - Data transfer and data response
Data input directly on the machine control console

Data import in DSTV or DSTV+ format

Data export of previously produced parts in DSTV feedback format to any directory
Downloads