Hengelo
Electrical Engineer
Reference number 2022-0101
Wat zijn jouw werkzaamheden?
Onze medewerkers van de afdeling Projects zetten innovatieve en creatieve ideeën om in technologische oplossingen. Zij bepalen het ontwerp en ontwikkelen de machine, die onze monteurs vervolgens gaan bouwen. Als Electrical Engineer maak je deel uit van de afdeling Projects, je komt te werken in een team van vier Engineers. Je bent dan ook actief betrokken bij de ontwikkeling van nieuwe machines. Daarnaast zoek je steeds naar mogelijkheden om onze bestaande machines te verbeteren. 
Je bent verantwoordelijk voor het elektrotechnische ontwerp, waarbij je rekening houdt met de vastgestelde specificaties en richtlijnen. De projecten zijn afwisselend en kunnen nieuwbouw, upgrades of serviceprojecten zijn. Je zorgt altijd voor een optimale efficiency, productiviteit, kwaliteit en klanttevredenheid bij alle projecten. Ook zorg je voor een goede voorbereiding en het op het juiste moment beschikbaar stellen van de middelen voor de uitvoering van projecten.
Tijdens het gehele traject van verkoop tot inbedrijfstelling van de installaties ben je het aanspreekpunt voor alle elektrotechnische vragen rondom het project.
Je bent betrokken bij de uitwerking van de elektrotechnische functionaliteit en je bent tevens de intermediair naar andere technische disciplines. Ook tijdens de verdere projectrealisatie van werkvoorbereiding, inkoop, productie, montage, FAT en inbedrijfstelling blijf je als contactpersoon opereren.
In het kort bestaan je werkzaamheden uit:
Zelfstandig ontwerpen van complexe installaties; 
Jij zorgt voor afstemming met de projectleider en partners;
Opstellen van specificaties, materialen en componenten;
Voorbereiden van activiteiten tijdens de assemblage, montage- en opleveringsfase;
Het realiseren van een optimale projectvoortgang binnen de gestelde kaders;
Het aanvragen en analyseren van offertes en het geven van advies;
Plannen, bestellen en bewaken van de materiaalkeuze en materialen;
Je signaleert meer- en minderwerk;
Je beheert en onderhoudt het projectdossier;
Voeren van overleg met opdrachtgevers, toeleveranciers, onderaannemers en adviseurs;
Je bent verantwoordelijk voor het testtraject, waarbij je de machine goedkeurt of waar nodig verbeteringen doorvoert
Je denkt mee over verbeteringen in elektrische schema's, tools en documentatie en je werkt mee aan de ontwikkeling van standaarden.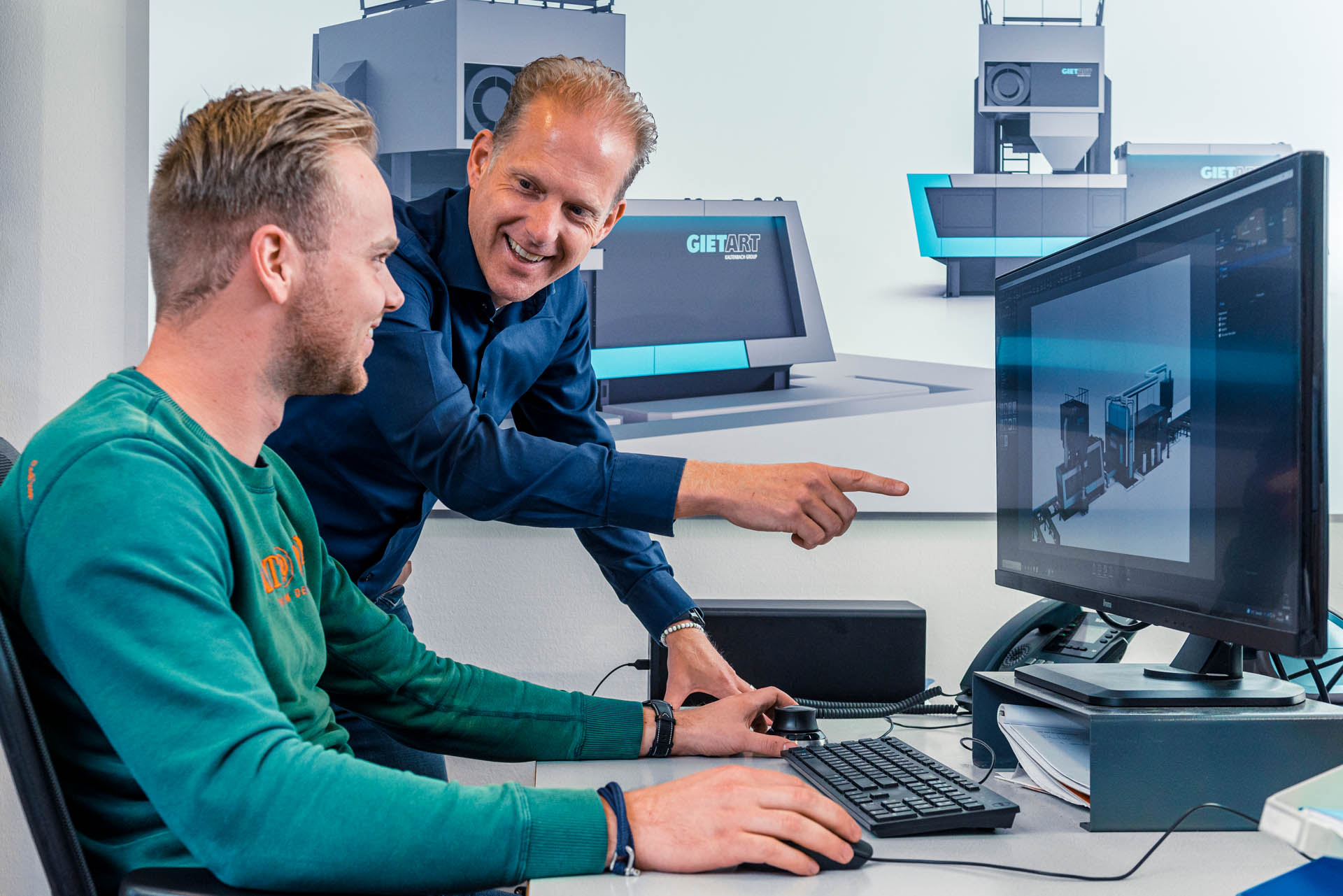 Wat vragen wij?
HBO werk- en denkniveau;
Minimaal 5 jaar werkervaring met het ontwerpen van elektrotechnische installaties;
Ervaren met het ontwerpen in Eplan en/of AutoCAD;
Goede kennis van hardware componenten;
Je hebt brede kennis van materialen die in de industrie worden gebruikt (PLC's, iPC's, schakelmaterialen)
Je hebt kennis van EMC-richtlijnen en praktische implementatie daarvan.
Je hebt kennis van industriële netwerken (EtherCat, Profibus etc)
Je hebt affiniteit met machineveiligheid, kennis van de ISO-norm voor Prestatieniveaus.
Sterke analytische vaardigheden en het vermogen om als intermediair naar de andere technische disciplines te opereren.
Wat bieden wij?
Een uitdagende, zelfstandige en afwisselende functie als Electrical Engineer binnen een hecht en enthousiast team. 
goed salaris passend bij je functie en ervaring
doorgroei- en scholingsmogelijkheden
veel ruimte voor eigen initiatief
27 verlofdagen en 13 adv dagen op basis van 40 uur
bij goed werk uitzicht op een vast contract
arbeidsvoorwaarden conform CAO Metalektro
een leuke club collega's