Product Portfolio
KBS 2101
Mitering band saw for medium- and heavy-duty steel fabrication and service centers
Workspace 90° [mm]: 2,100 x 800
Benefits at a glance
Designed for profiles with large material cross-sections
Highest cutting performance due to carbide saw bands
AFC automatically reduces cutting time significantly
Highest automation opportunities for short piece handling
Fast change of the saw band for low idle times
Robust construction for perfect cutting results
Precise setting of cutting angle
Long blade life and the best cutting quality
Powerful clamping system for low vibrations
Cutting pressure and slippage control for perfect quality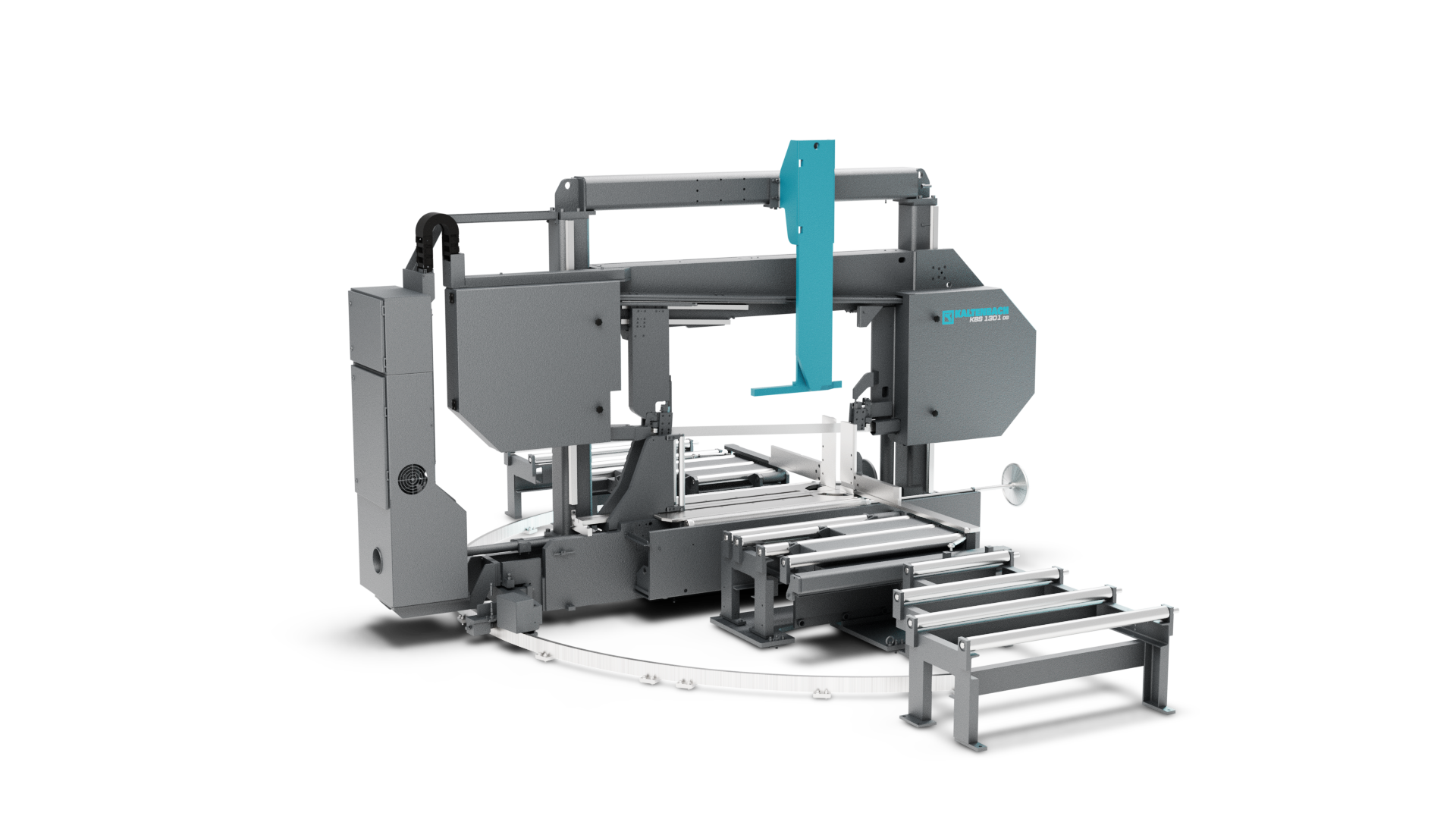 Self-adjusting profile clamping

Hydraulic profile clamping within the automatic cycle control
Clamping of the workpiece immediately adjacent to the saw band for precise cuts
Clamping and sawing of layers and bundles possible

Saw band friendly operation

Measurement in both saw band guides
Cutting-pressure selection adjustable on the saw frame
Self-regulating feed rate accross the range of saw band contact lengths

Saw band relief when idling

Electronically monitored, with automatic tension reduction when saw band is idle
Automatic shut-off of the saw drive in case of blade breakage
Long saw band life

Saw band protected from wear

Brush separately driven by three-phase motor
Long saw band life and excellent cut quality

Visual display of the cutting edge

Processing of material via feed creep rate through control keys on the saw frame
Sawing on tracings possible

Band deflection monitoring

Control of cutting path through the material when saw band begins to wear
Input of threshold values on the operating console and to cycle interruption if exceed
High cut quality, no material waste

Manual material positioning

Supply rollers attached to the left and right of the saw table
Manual transport and positioning movements in the sawing area
Front cuts and end pieces can be moved out of the machine in manual operation

Transport of short profiles

Power-driven transport rollers in the infeed and outfeed sides alongside the saw table
Short material lengths can be transported through the sawing area with mitre settings

Low-vibration, repeatable feed

Strong drive power for increased cutting speed
Saw band feed via ballscrew spindle
Servo motor with absolute pressure encoder infinitely adjustable on the control console
Long saw band life even with the most varied material dimensions

Nearly dry workpiece

Optimum tool lubrication when sawing profiles
Disposal of lubricant unnecessary
Long saw band life

Fast and precise mitre adjustment

Adjustment on free-standing control console
Measurement takes place through absolute rotary encoder and frequency-controlled motor
Automatic, hydraulic clamping of the machine after reaching the miter setting
Reduced non-productive times when changing mitres

PROFICUT

Modern Software Package for KALTENBACH Sawing Machines

PROFICUT

Easy, user friendly machine operation

Programming of orders via color touchscreen with large keypads directly on the machine control console
Storage possibility for as many sawing orders as desired
Automatic calculation of cutting speed and feed over the material group or DIN-Nr. (steel key)
Graphical representation of the material
Machine operation

PROFICUT

Profile database

Comprehensive profile database
Easily expandable
Graphic display of workpiece forms

PROFICUT

Production data report

Recording of production times of individual pieces or entire orders

PROFICUT

Data transfer and data response

Data input directly on the machine control console
Data import in DSTV or DSTV+ format
Data export of previously produced parts in DSTV feedback format to any directory

Connection to steel roller conveyor

Cross transport by means of lift-and-carry system (as an alternative to drag chains)

Standard measuring system on the feed side

Positioning drive through frequency regulated three-phase motor with absolute rotary encoder
Automatic NC positioning via machine software
Rapid pivoting of the squaring arm
Manual adapter for processing short lengths

Standard measuring system on the feed side

M 150 P sliding measuring carriage with pusher plate

Low-noise material cross transport

Due to additional polyamide-coated rollers into the roller conveyor the noise is significantly reduced
Fully-automatic control
Contributes to enhanced occupational safety and the protection of personnel and the environment

Space saving measuring system on the feed side

M 152 GG sliding measuring carriage with two grippers

Cross transport with lifting pins

Cross transport with lifting pins

Fast material cross transport

Material stock in heavy-duty steel construction
Sliding rails of synthetic material (polyamide) for low-noise material cross transport
Drag chains with transport claws
Drive system with continuously-variable frequency-controlled gear motor

T 13 transport system for steel construction and steel service centers

T 13 modular expandable conveyor roller system

Universal measuring system on the outfeed side for sawing machines

Positioning drive through servo motor with absolute rotary encoder
Automatic NC positioning via machine software
Rapid pivoting of the squaring arm
Automatically-extending adapter for processing short lengths

Universal measuring system on the feed side

M 151 G sliding measuring carriage with gripper

KBS 1301

The KBS 1301-2101 series is ideally suited to medium- and heavy-duty steel fabrication and steel service centres. The machines in this range are specifically designed for machining large-volume profiles which can also be mitre-cut.

HDM 1432

The HDM 1432 is designed for the toughest applications and requirements regardless of the material cross-section in the steel construction sector. Strengths: The rapid cutting of structural steel sections both straight and mitred and either single bar or bundles.
Speed, quality, precision

Automated solutions for each level of requirement

Total versatility, high-end cutting techniques

Developed for strong performance

We guarantee the quality of your steel!

Committed support and professional advice

Over 135 years of accumulated know-how

Advanced process monitoring systems

We are there - wherever you need us

Environmentally friendly and resource-saving products

Cutting-edge sawing, drilling and plate processing technology

Optimal shot blasting results, low running costs

Constructed to meet your individual needs

Optimal availability and performance

Integrated high-quality solutions for the steel industry

Total design consultancy and customized solutions

We know how to boost your efficiency and productivity

Highly efficient painting and drying systems

Successful plant integration within your production environment