Product Portfolio
KBP 1301 (KBS 1351)
Mitering band saw for light- and heavy-duty steel fabrication and service centers
Workspace 90° [mm]: 1,330 x 600
Benefits at a glance
Highest cutting performance due to carbide saw bands
AFC automatically reduces cutting time significantly
Highest automation opportunities for short piece handling
Fast change of the saw band for low idle times
Robust construction for perfect cutting results
Precise setting of cutting angle
Long blade life and the best cutting quality
Swarf brush to improve cutting performance
Powerful clamping system for low vibrations
Cutting pressure and slippage control for perfect quality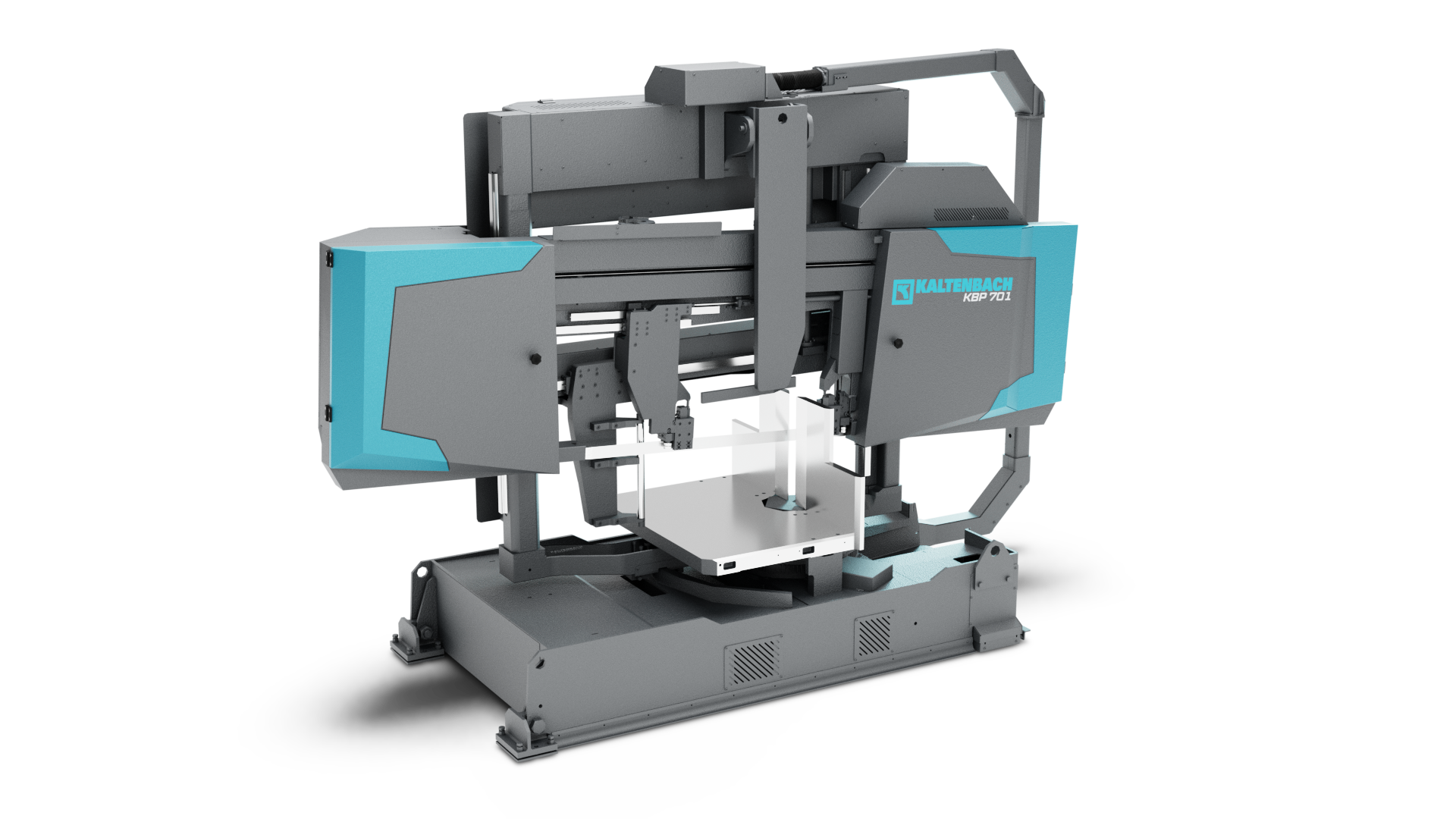 Hydraulic feed control with monitoring

Powerful feed
Fast and easy feed adjustement even during runtime

NC-controlled angle setting

Precise angle setting for high quality cuts
NC-standard enables highest reliability

Horizontal and vertical clamping device

Clamping directly next to operation area
Low vibrations for long saw band lifetime and low operating costs
Cutting of material layers and bundles possibles

Switching from rapid to pre-set feed rate

Automatic switching from rapid feed approach to pre-set feed rate
Low idle times and higher machine utilization
Feature is fully independend from machine program

Automatic hydraulic cutting pressure control

Automatic feed control based on band pressure detection
Extended saw band life time based on material and band status

Hydraulic band tension

Set the right tension level for a cutting process
High tension is activated during cutting process
Low tension during idle time for long band lifetime

Minimum quantity lubrication

MQL ensure longer saw band lifetime
No lubrications rest on the material possbile

Chip removal brush

Less contamination of the machine and its environment
Higher cutting performance
Less wear on saw band for longer lifetime and lower costs

Electronic band slip monitor

Rotation speed measurement of both saw wheels
Slippage is reliable detected
Cutting process is stopped automatically

Robust saw in solid twin pillar construction

High cutting performance and precision
Longlasting construction for long investment cycles
Inclined saw band for higher average feed rates

Chip conveyor

Automated chip handling
Higher comfort for operator

Office software license

Parts can be programmed, imported and nested in the office
Real time feedback of production status

Band deflection monitor

Automatic detection of band deflection
Sensor results will be shown to the operator
Maintenance can be executed according to real machine conditions

Laser line projection

Laser projection for manual cuts
Transport system control directly on machine portal

Automatic hydraulic lowering

Lowering of machine base reduces collision risk when new material comes in
Less wear on clamping unit and cutting table

Automatic hydraulic lifting

Automatic expension of the cutting channel
Internal tension inside the material can not longer clamp the material

Auto Feed Control

Automatic adjustment of saw band angle
Increased cutting performance up to 50%

PROFILINE

Modern Software Package for KALTENBACH Drilling and Drilling-Sawing Machines

PROFILINE

Easy, user friendly machine operation

Programming of orders via color touchscreen with large keypads directly on the machine control console

PROFILINE

Order manager

Create, copy and delete orders
Graphic display of individual positions within an order

PROFILINE

Profile database

Comprehensive profile database
Easily expandable
Graphic display of workpiece forms

PROFILINE

Tool manager

Tool Changer setup based upon the tool type and diameter
Allocation of the drill diameter to rotational speed settings and feed rates

PROFILINE

Production data report

Recording of production times of individual pieces or entire orders

PROFILINE

Data transfer and data response

Data input directly on the machine's control console
Data import in DSTV or DSTV+ format
Data export of previously produced parts in DSTV feedback format to any directory

KDP 1336

Drilling machine for drilling, tapping, countersinking, marking and milling
Additional sub-axis for parallel processing on 500 mm along the material
Powerful motors for high performance applications
Processing on up to 3 axis simultainelsly
Automatic tool change with up to 5 tools per axis
Integrated material measurement system for high presicion

KBP 701 (KBS 761)

The KBS 761-1351 series is ideally suited to all aspects of sectional steel fabrication and steel service centres. The machines are specifically designed with a high level of automation, high cutting performance and low maintenance requirements.

KBP 1001 (KBS 1051)

The KBS 761-1351 series is ideally suited to all aspects of sectional steel fabrication and steel service centres. The machines are specifically designed with a high level of automation, high cutting performance and low maintenance requirements.
Automated solutions for each level of requirement

Optimal shot blasting results, low running costs

We are there - wherever you need us

Cutting-edge sawing, drilling and plate processing technology

Committed support and professional advice

Speed, quality, precision

Total design consultancy and customized solutions

Constructed to meet your individual needs

Highly efficient painting and drying systems

Integrated high-quality solutions for the steel industry

Optimal availability and performance

Over 135 years of accumulated know-how

We know how to boost your efficiency and productivity

Developed for strong performance

Environmentally friendly and resource-saving products

Advanced process monitoring systems

Total versatility, high-end cutting techniques

Successful plant integration within your production environment

We guarantee the quality of your steel!